people usually confused about COA Structure and COA Structure Instance in Oracle fusion. Chart of Account structure (COA) is not new to people who have already worked in Oracle EBS. But in Oracle fusion there is a new term called COA Structure Instance .In Oracle fusion ERP COA Structure instance is very important from reporting point of view.
Let us try to understand the significance of both.
Chart of account is called accounting flex field and is used for financial reporting of a organization. In chart of account you have to define your segment. Segments are different dimensions of a Business. They capture the different element of a business for financial reporting purpose. For example Company, Accounts ,cost center, Product line etc. capture the financial position of a company with different reporting tools.

In each segment of Chart of Account you have to mention two important things- Segment level and Value set code
Segment level is a qualifier for a segment .This qualifier will tell how the segment will be used while creating a financial report. For example if the segment is enabled as a primary balancing segment -then for each and every journal and accounting the segment values should be balanced.
Balanced means the debit and credit amount should be same for this segment.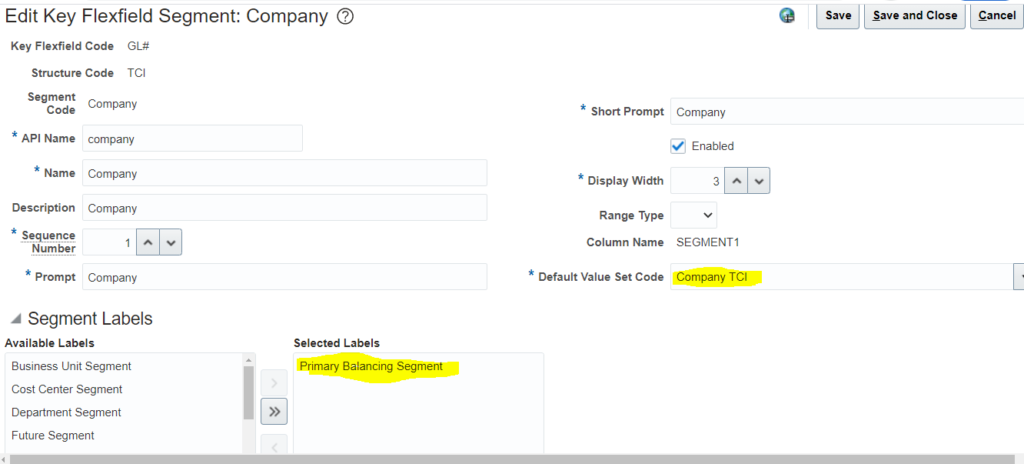 Similarly if the segment is enabled as a Natural account segment then all the values will be treated as a natural account. Values under this segment will be either a Asset, liability ,revenue or expenses.
You can notice here that-for each segment we are also assigning a unique value set code. Value set codes contents values for each segment.
Now question is if we have decided our segments and value set code at COA Structure level what is the use of Chart of Account structure instance.
let us understand carefully .
You can watch this video session to understand this topic clearly.
Chart of Account instance gives us flexibility to design our Accounting hierarchy multiple time with same COA Structure. For example we are implementing Chart of account for a big MNC. They have business operation in different country and so they have country specific financial reporting requirement for each country.
We can use the same structure and create multiple structure instance for different countries. That means we can create one to many relationship between COA Structure and COA Structure instance.
Take example of our strucutre TCI
You can see that at chart of account instance level we are enabling dynamic insertion or combination
What other important setup we are doing at instance level?
If you click on edit segment you can see one very important screen below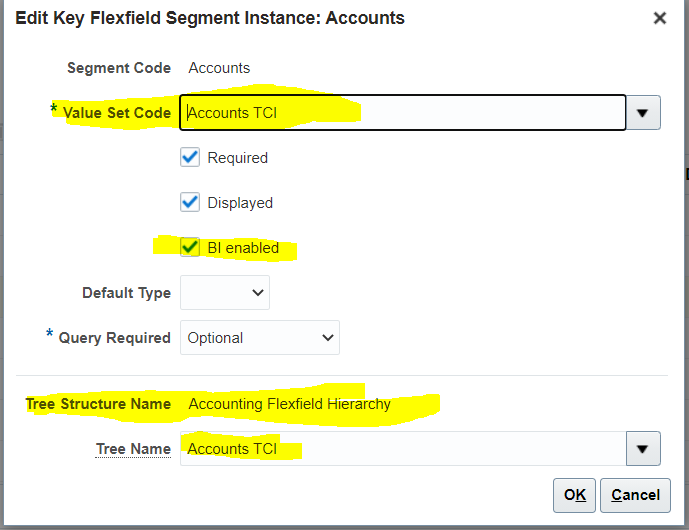 In the above screen you can see the value set code-Account TCI is defaulted from COA Structure definition. But here at instance level you have the flexibility to change the value set code. You can assign a new tree structure or account Hierarchy as per country specific requirement.
Though we are using the same COA structure still we can change the complete financial reporting simply by assigning a different Accounting tree at COA instance level.
We can create as many as COA Instance with same COA Structure. That is the significance of Chart of Account structure instance.
For instance for Japan we can create a separate COA Instance and accounting tree and for USA a separate COA instance with an USA specific accounting tree. More over we can use the same Chart of Account Structure.
You can also watch-Difference between COA Structure and COA Structure Instance in Oracle Fusion R13|Chart Of Account
With BI Enabled check box these Accounting tree have a seam less integration with Essbase Hyperion cube. Hyperion reporting tool will use these Accounting hierarchy from COA instance to provide robust financial reporting .
Oracle Fusion and Oracle Cloud ERP has provided lot of reporting and analytic tools like OTBI, Financial reporting Studio, SmartView and Account monitor etc. These tools prominently use the accounting tree to generate multidimensional financial report
Finally we understand that by introducing Chart Of Account structure instance , Oracle Fusion has provided tremendous reporting capability with lot of flexibility
In another topic we will discuss different reporting tools in Oracle Cloud ERP.
Check our complete training modules here
Please comment and subscribe to our blog to get more such articles.