Period close process in Oracle Cloud ERP is a challenging job.
There are multiple Oracle fusion modules like Finance, Procurement, Inventory and project accountings integrated with with each other.
Continuous data flow is happening among them in oracle fusion. So before closing the period for any specific module we need to understand the dependency of each module with other module
Please check the below flowchart how the modules are interconnected and how to handle period close process sequentially in oracle fusion for all the modules.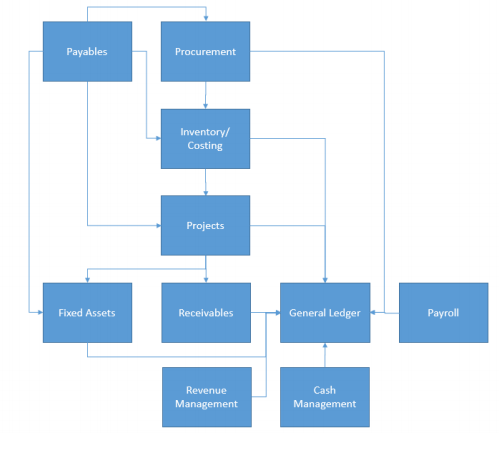 Check the below important interdependencies before performing period close.
Payable is the module which you need to Close first. Complete the period close activities for Payable before closing Procurement. The reason is once the AP period is closed you can't sent PO and receipt for Invoicing anymore .There will be unvoiced receipt available in Procurement module. You can then take into account the period end purchasing accruals and accrue expenses on un-invoiced receipts.
Close Payables before closing Inventory. This is required to check that ,the un-invoiced accrual entry is accurate.
Close Payables before closing Fixed Assets. You need to ensure that all the Invoices lines enabled as assets are completed, accounted and transferred to GL. You need to ensure that these capital Invoices line distributions are interfaced to Fixed asset module. If creating leases in Fixed Assets, all leasing invoices must be interfaced to Payables and paid before closing Payables.
Close Payables before closing Projects to ensure invoices and expense reports are completed and transferred to Projects.
Close Procurement before closing Inventory. You have to do all the reconciliation and correction for miscellaneous transaction corrections in Inventory.
Close Inventory before closing Projects to ensure that Project-related inventory transactions are completed and imported into Projects.
before closing Fixed Assets and Receivables transfer all relevant Project costs to Fixed Assets and transfer revenue to Receivables
General ledger is the last one to close. Once all the subledger accounting entries are finally accounted, transferred to GL and subledger periods are closed ,you can start closing activities for General leddger
In next session we will see the period close process for all the module in Oracle cloud ERP